Designed for palletless handling. Used to transport and stack loads packed in bags that stacked on pallets, such as plastic raw material, concrete, fertilizer, feed, sugar and etc. As loading truck, rotating, separating load with pallet and pushing the load out to destination, while the pallet is kept, will finish the operation. Lower fatigue for operator, safety and high efficiency.
Functions & Applications
Pusher/Push Pull is designed for slipsheet applications requiring high productivity with easy maintenance.
Features
● Excellent driver visibility
● Flexible spacing between both fork planks
● Smooth contact parts ease the damage of slide plate
● Strength and durability to work in demanding applications
● High strength and secure structure
● Simplified hydraulic system
● Smooth operation with the buffering function of cylinder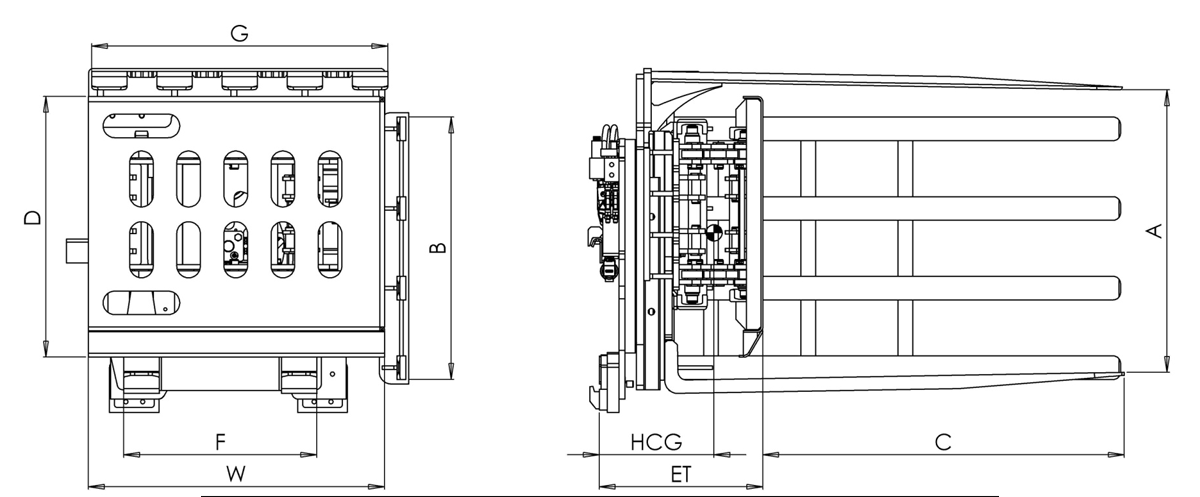 Capacity@
Load Center
Model
Mounting
Class
Opening
Range
Launch Distance
Platen width
Fork Distance
Push Plate Size
Weight
Effective
Thickness
Horizontal
Center of
Gravity
(kg@mm)




A(mm)






H*W
(kg)
ET(mm)
HCG(mm)
1500@500
TCX15D-C010
III
850-1250
1136
1300
870
800*1300
1275
475
395
1500@500
TCX15D-C011
III
965-1545
1180
1300
870
910*1300
1330
450
391
1500@500
TCX15D-C013
III
965-1545
1250
1200
870
910*1200
1335
430
413
Recommend Hydraulic Flow: 30L/min
Pressure: 160 Bar
Note
1. Please contact FLT manufacture for the residual capacity of attachment
2. 2 additional hydraulic circuit required
* Further technical details are available upon request