Floor flush design to enable loading of load by pallet trucks. Enable changing of pallet for stable load at 90° position. Able to turn 90° and release for load to be squared by the specially designed side support platform. Simple and safe to operate. Available in optional automatic sequencing control design.
Functions & Applications
Designed to provide a reliable, economical and efficient means of inverting loads, allows transfer of boxed, bagged or canned products to pallet or slipsheet, freezer spacer removal, damaged carton replacement.
Features
● Self-contained power pack
● Adjustable relief valve and restrictor cartridge
● Stable platform
● Fork pockets for easy relocation
● Special and durable rubber pad as cushion on rotating end Options
● Custom opening range
● Custom pad size
● Custom power supply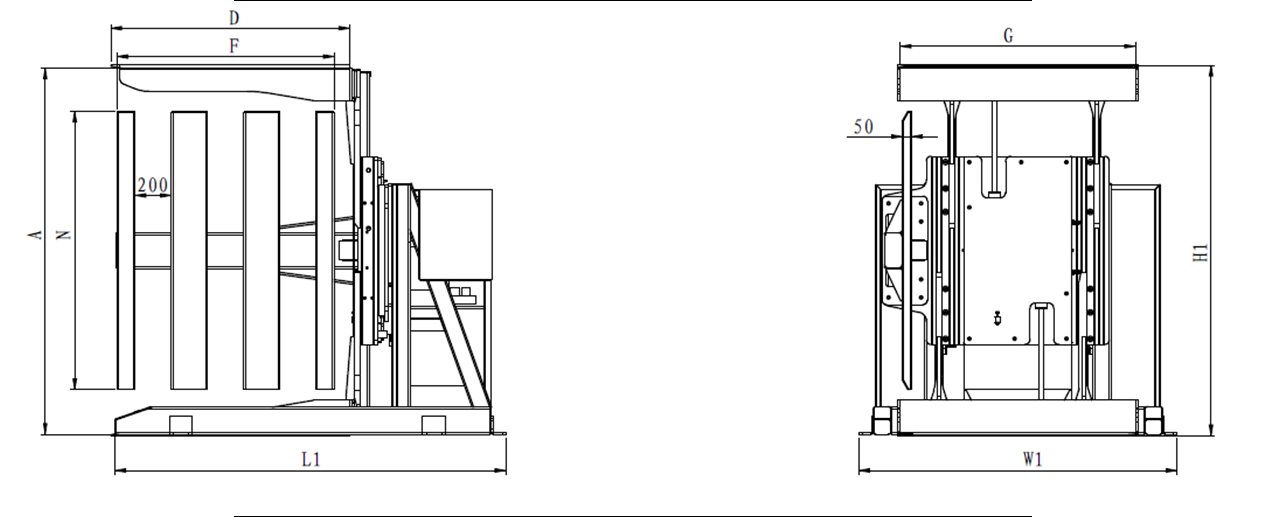 Capacity@Load Center
Model
Safe Guard Fencing Size
Pallet Inverter Size
Platform Size
Fixed Lateral Support Size
Opening
Range
Rotation Angle
Weight
kg@mm


WxLxH
(mm)
W1 x L1 x H1
(mm)
DxG
(mm)
FxN
(mm)
A
(mm)
(°)
(kg)
1500/650
TPQ15A-001
2970x2500x1760
1760x2160x2050
1300 x 1300
1200x1540
760 - 2000
0-90°
2700
Note
1. Working Pressure: 16MPa
2. Operational voltage type outer power rating upon requested
* Further technical details available upon request