Paper Roll Clamp
A paper roll clamp is a mechanical device used to hold and secure a roll of paper, cardboard, or other flexible material. It is typically used in the printing, packaging, and paper handling industries, as well as in warehouses and distribution centers where rolls of material are stored or transported.
The clamp consists of two arms that are mounted on a base, which is usually mounted on a forklift or other material handling equipment. The arms are designed to grip the sides of the roll of material and hold it in place as it is being moved or stored. Some paper roll clamps also have additional features, such as a hydraulic mechanism for adjusting the clamping force or a rotational device for turning the roll as it is being moved.
Paper roll clamps are an important tool in the handling and storage of large rolls of paper and other materials, as they allow for efficient movement and handling without damaging the roll or the material contained within it.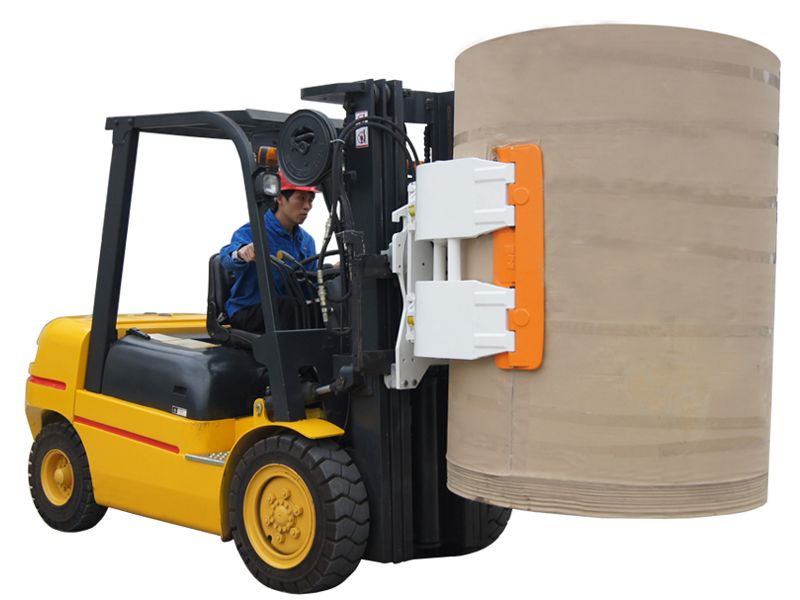 The paper roll clamp attachment is commonly used in the paper handling industry. This attachment is suitable for different types of machines. In addition to forklift paper roll clamps, we also sell the paper roll clamp attachment for telehandlers and skid steer loaders. Get help to find the right one
Features of Paper Roll Clamp Supplier
● Rational designed, compact structure, excellent driver visibility, easy operating, improve work efficiency.
● Thin arm profile and smooth arm contour eases roll breakout.
● Contact pads with integral casting structure, abrasion resistance, long service life. Contact pads surface reasonable, provide the best clamping friction.
● Continuous 360° rotation, any angle position of lock function, revolving positing 90° or 180°.
● Hydraulic retention of cylinder valves is to ensure reliable clamping of long distance transportation.
Benefits of Paper Roll Clamp
Paper roll clamps are used in the handling and transportation of large rolls of paper, such as those used in the printing and packaging industries. There are several benefits to using a paper roll clamp:
Improved safety: A paper roll clamp allows operators to securely handle and transport large, heavy rolls of paper without the risk of injury.
Enhanced efficiency: A tissue paper roll clamp allows operators to easily and quickly load and unload rolls of paper, increasing the speed and efficiency of the handling process.
Reduced damage: Using a paper roll clamp can help reduce damage to rolls of paper during handling and transportation, as it allows them to be securely held in place and prevents them from shifting or falling.
Increased control: A paper roll clamp provides operators with greater control over the handling and transportation of large rolls of paper, allowing them to carefully maneuver the rolls into place and prevent them from tipping or falling over.
Overall, paper roll clamps can help improve safety, efficiency, and control in the handling and transportation of large rolls of paper.
Application of Paper Roll Clamp Supplier
The paper roll clamp from Longhe is designed for mills, warehouses, printers, newspaper publishers and converters, and etc.. View More Application Case
---
Longhe Attachment is a professional tissue paper roll clamp supplier in China, offering various paper roll clamp for forklift attachment in different production line to reduce the overall cost and increase the working efficiency. Welcome to contact us to get free quotatio or more detailed information of tissue paper roll clamp.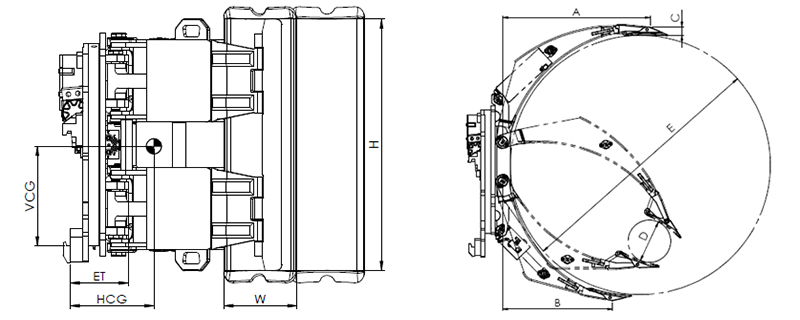 Specification of Paper Roll Clamp
Capacity@

Load Center

Model
Roll
Range
Type
Mounting
Class

Contact

Pad Size

Long
Arm
Length
Short
Arm
Length

Long Arm

Thickness

Vertical
Center of
Gravity
Weight
Effective
Thickness
Horizontal
Center of
Gravity
(kg@mm)


(mm)




WxH(mm)
A(mm)
B(mm)
C(mm)
VCG(mm)
(kg)
ET(mm)
HCG(mm)
2500@600
ZJJ25D-C104RA
530-1500
A
III
260x900
1003
714
40
353
724
256
367
2500@600
ZJJ25D-B125RA
600-1300
A
II
260x900
878
634
40
357
680
205
293
2500@600
ZJJ25D-C028RC
750-1800
A
III
260x1500
1237
846
40
401
916
256
465
5000@600
ZJJ50D-D011RB
1200-2500
A
Ⅳ
500x1200
2276 
1741 
104 
471
1850
230
574
7000@600
ZJJ70D-D001RD
1070-3100
B
Ⅳ
700x1800
2276
1741
104
517
2560
287
721
Hydraulic Flow and Pressure
Model
Pressure (Bar)
Hydraulic Flow (L/min)
Rated
Rotating
Clamping
25D/50D/70D
160
20-60
20-60
Rotating Specification
Model
Rotating Speed
Rotating Torque
25D
5.2r/min@60L/min
9000N.m@160Bar
50D/70D
3.2r/min@60L/min
11000N.m@160Bar
Note
1. Please contact FLT manufacture for the residual capacity of attachment
2. 2 additional hydraulic circuits required
3. Type"A"fixed short arms, Type"B"adjustable short arms
4. Pad Length fot Type RA-900mm, RB-1200mm, RC-1500mm and RD-1800mm
5. Non-Standard Type pad requested with different rolls
* Further technical details are available upon request.
About Paper Roll Clamp Supplier
Longhe would like to offer any professional assistance as a professional paper roll clamp supplier. If you need paper roll clamp for your project or business, please trust us. We will convince you with our profession on the quality and service of paper roll clamp. Feel free to contact us to get free quotation of paper roll clamp at any time.