Push-Pull are designed for palletless packed goods handling and stacking operations. With the aid of slipsheet which replaces pallet, sheets with loads on were pulled onto the carrying plate of set and were pushed out to spot of destination. It features of high productivity with easy maintenance and lower running cost are gained. And mainly used industries such in petrochemical, chemical, pharmaceutical, logistic industries and any other industries that uses palletless handling systems.
Functions & Applications
Pusher/Push Pull is designed for slipsheet applications requiring high productivity with easy maintenance.
Features
● Excellent driver visibility
● Flexible spacing between both fork planks
● Smooth contact parts ease the damage of slide plate
● Strength and durability to work in demanding applications
● High strength and secure structure
● Simplified hydraulic system
● Smooth operation with the buffering function of cylinder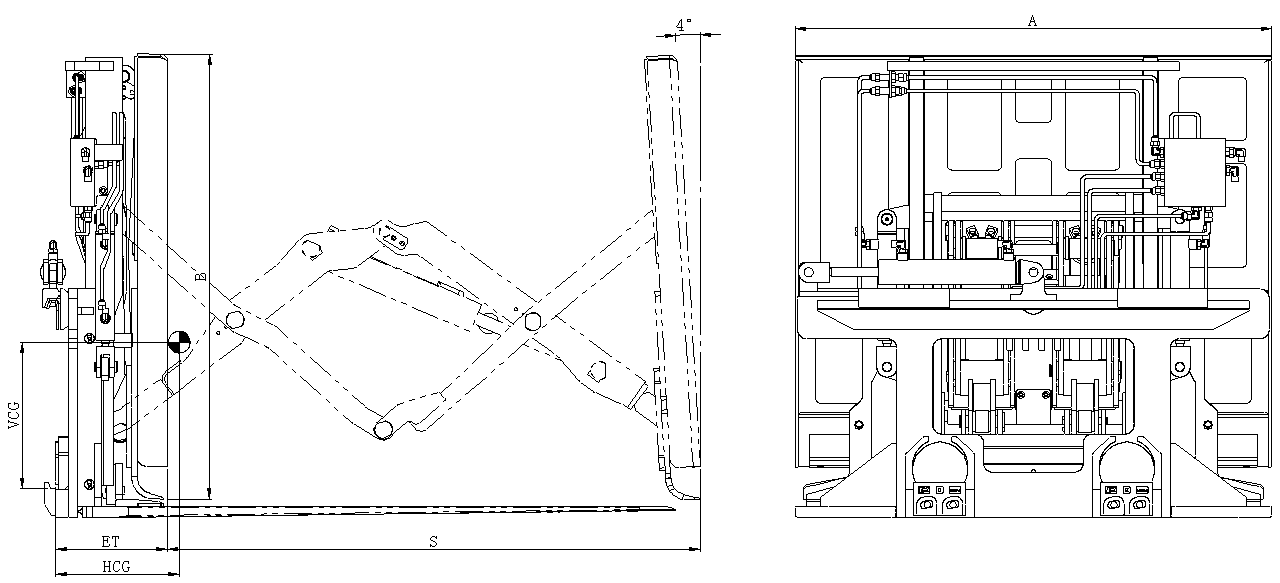 Capaticy@
Load Center
Catalog
Order No.
Platen Size
Carrying Plate Size
Mounting
Class
Fork Distance
Stroke
Vertical
Center of
Gravity
Weight
Effective
Thickness
Horizontal
Center of
Gravity
(kg@mm)


(mm)
(mm)






VCG(mm)
(kg)
ET(mm)
HCG(mm)
2000@500
TLQ20K-B008
1050x982
1220x1050
II
1050
1270
234
575
240
321
2000@500
TLQ20K-B010
1050x982
1220x900
II
900
1270
206
590
240
346
2000@500
TLQ20K-B012
1050x982
1200x1050
II
1050
1250
208
550
240
362
2000@500
TLQ20K-B014
1050x982
1130x1050
II
1050
1180
239
550
240
306
2000@500
TLQ20K-B020
1050x1065
1350x1050
II
1050
1400
254
597
240
344
2000@500
TLQ20K-B022
1050x1065
1350x290
II
1150
1400
247
615
240
333
2000@500
TLQ20K-B024
1050x1400
1220x1050
II
1050
1270
269
590
240
319
2000@600
TLQ20K-C008
1050x982
1220x1050
III
1050
1270
245
582
240
314
2000@600
TLQ20K-C012
1050x982
1200x1050
III
1050
1250
248
570
240
312
2000@600
TLQ20K-C014
1050x982
1130x1050
III
1050
1180
248
570
240
306
2000@600
TLQ20K-C018
1600x1065
1390x1600
III
1600
1450
224
850
240
387
2000@600
TLQ20K-C020
1050x1065
1350x1050
III
1050
1400
262
610
240
337
2000@600
TLQ20K-C026
1500x1065
1290x1600
III
1500
1350
241
785
240
347
Recommend Hydraulic Flow: 40L/min –120L/min
Pressure: 160 Bar
Note
1. Please contact FLT manufacture for the residual capacity of attachment
2. 2 additional hydraulic circuits required
* Further technical details are available upon request